Post by Francis 'Kris' Harvey on Nov 17, 2009 17:30:59 GMT -5
{Around 6 years post-BD - Kris aged 14}
Kris' first year of high school had gone as well as could be expected so far, and he certainly had nothing to complain about. He had experienced the usual level of teasing that his full-sized cello inevitably evoked, but that didn't bother him, just like the kids taking his toys hadn't bothered him in day care all those years ago – he'd just learnt not to tell his mom about it to stop her from overreacting. Another aspect that stopped him from reacting in any way to the idiots in their year was the incredible friendship he had struck up from his very first day at the school with a certain Aubrey Knight.
To be honest, he had had a crush on the girl from the moment that they first sat next to each other in a particularly boring session of history a few months ago. However, although he was not overly reserved, he was modest enough to resist the urge to ask her out on a date then and there, and now he was grateful for his apprehension. They had become firm friends within a matter of days and best friends in weeks. They were close enough as friends for his mother to allow them to study in his bedroom with full trust and the door closed, which he knew a lot of his friends were envious of.
Despite this, however, Kris still found himself longing for a more romantic element to their relationship. She was the most beautiful girl he had ever seen, more alluring than the most popular celebrity and he was afraid that if he didn't bite the bullet and ask her out now then he would never be able to. On the other hand, he didn't want to jeopardise their friendship; he valued it too much to lose…
He blinked as the teacher, who had imposed a silence upon them for the duration of the lesson, stood up and began to tell them about their homework assignment. Quickly, he scribbled a note on to a creased sheet of paper and slid it across to his partner in friend, best friend and, hopefully, future girlfriend.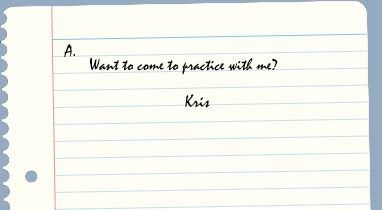 He wouldn't do her the disservice of having the conversation with public and his request was innocent enough – she often heard him play; he often saw her dance.