Post by Edward Cullen on Nov 16, 2008 18:14:59 GMT -5
Any member who would like to post a link to their site here must link back to us. You can find the ad to our site here for use on other proboards sites. If you do not link back, your link will be deleted.
The best way for the site to grow is through advertising. Whether its word of mouth to your friends, posting our link and a description of the site on another board (or our ad below if its a proboards site), or any other means you know of. The more people who know about our site, the more member's we'll get, and hopefully who will participate.
If anyone knows of a place to advertise, fansites, forums, etc, please help out and post our link! If you see a post someone else made, reply to it to help bump the thread and keep it near the top where people can see this! IMDB is a great example of this. I have a thread there
www.imdb.com/title/tt1099212/board/thread/122947632
If you see its not on the front page, reply saying how much you're enjoying the site. IMDB gets lots of fans visiting per day!
Other places I've tried that you might find success in are yahoogroups, and even facebook groups! Be creative! Spread the news of our site! But please refrain from spamming anyone with the link, or posting where its unwanted or against the forum rules, or repeatedly posting the link to the same group/location. We dont want the site getting a bad reputation!
Thanks in advance for your help!
Our ad: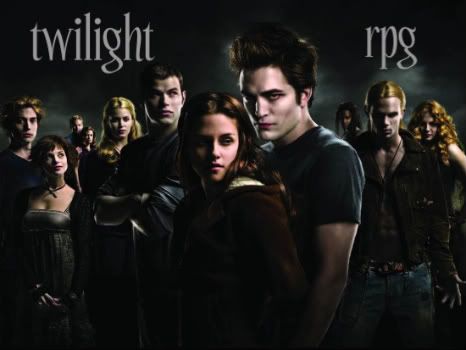 "About three things I was absolutely positive. First, Edward was a vampire. Second, there was a part of him - and I didnt know how dominant that part might be - that thirsted for my blood. And third, I was unconditionally and irrevocably in love with him."
A role playing site for the Twilight saga of books written by Stephenie Meyer, as well as the movies being created from them. Interact as or with your favorite characters. Delve into the world of Twilight. Join today!
twilightmoviebook.proboards.com
"And so the lion fell in love with the lamb"
"What a stupid lamb"
"What a sick masochistic lion"
[center][url=http://twilightmoviebook.proboards.com][IMG]http://i72.photobucket.com/albums/i180/jmkgeb/Twilight/Twilight-3.jpg[/IMG][/url]

[b]"About three things I was absolutely positive. First, Edward was a vampire. Second, there was a part of him - and I didnt know how dominant that part might be - that thirsted for my blood. And third, I was unconditionally and irrevocably in love with him." [/b]


A role playing site for the Twilight saga of books written by Stephenie Meyer, as well as the movies being created from them. Interact as or with your favorite characters. Delve into the world of Twilight. Join today!

[url=http://twilightmoviebook.proboards.com/index.cgi?board=links&action=post]http://twilightmoviebook.proboards.com[/url]


[b]"And so the lion fell in love with the lamb"
"What a stupid lamb"
"What a sick masochistic lion"[/b][/center]