Post by Jacob Black on Feb 1, 2010 14:31:14 GMT -5
Character Basics
Name:
Jacob Ephraim Black
Nickname:
Jake
Age:
January 14, 1990 (17)
Appearance
Looks:
Jacob is at least 6'7" tall, with a toned and muscular body, upon discovering his werewolf powers and joining the Quileute pack, he crops his long black hair short. Later he grows it out to chin length. As a wolf, Jacob has russet brown fur, dark eyes that show intelligence, and is very swift. He is also the second fastest and the second largest in the pack
Scars, tattoos, other marks:
A circular tribal tattoo on his right upper arm.
Portrayed by:
Taylor Lautner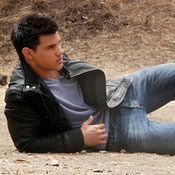 Personality and Stats
Basic Personality:
Jacob Black is a werewolf who absolutely loves to tease, and be happy. He doesn't really like his pack much though. He's okay with the Cullens, except for Rosalie and Esme. Except, he loves to hate Rosalie, but he doesn't really like how pushy Esme is about being helpful. Esme wants to help him out, but he doesn't really want it. He just wants to be around Bella and, of course, Nessie. He loves to piss Edward and Rosalie off. He tries to keep his distance from the pack though, because they just piss him off usually. He's willing to talk to them, and keep them under control, but he practically begs for them to go back to Sam, where they all belong. They all belong to Sam in his mind.
Jake is one of those people who run from their problems rather than suck it up and face it. And he still isn't sorry for hurting Bella so many times, and he doubts he ever will be. He's not afraid of showing his feelings, or keeping his shirt off around town. He's pretty blunt, and he's pretty much a pain in the ass. He's not afraid to be rude, or to make Bells feel bad. He loves Nessie with all his heart though, and understands that it will never be between him and Bella. He hopes that it will be between him and Nessie. It'll piss off Edward and Rosalie most. He's glad he gets to be connected to Bella somehow though.
Strengths/Weaknesses:
+Renesmee
+Bella
+Strong
+Generally Very Happy
+Teasing
+Biggest wolf on the reservation
+Alpha
+Still has a good relationship with Sam
+Building vehicles; cars, motorcycles, etc.
+Pissing Rosalie and Edward off
+Finding a way around the rules somehow
-Made Bella choose
-Still fantasizes about how life could be with Bella
-Too protective of Renesmee
-Sometimes goes too far with teasing
-Hates having a pack
-Hates that he split the pack, but refuses to make it back into one
-People who pit him against Sam
-Runs away from pain
-Can be rude
-Leah and Seth; mad that they followed him
-People who bother him
-Vampires outside the Cullens, and a lot of the time the Cullens
Species:
Werewolf
Abilities:
Ability to use the Alpha command, Limited telepathy with other Alphas, Telepathy with his pack, Delayed aging ,Advanced healing, senses, endurance, durability & strength
Occupation:
Car:
VW Rabbit
History:
Birthplace:
La Push
Family:
Billy Black- Father, Human, Alive
Sarah Black- Mother, Human, Deceased
Rachel Black- Sister, Human, Alive
Rebecca Black- Sister, Human, Alive
Renesmee Cullen- Imprint, Hybrid, Alive
Friends:History:
Billy was a happy guy. He was happy with life, and he was content with where he was at in life. He wasn't rich, or ridiculously lucky; he was an average person, maybe a little poor, but he was content with it. He didn't want to be rich and famous, he just wanted to be happy. He wanted to have a family, and he knew who he wanted to have a family with, Sarah Camille, his best friend. They'd known each other since they were very small children, but she didn't know that he loved her. He wanted to marry her, and he got aggravated when she dated other people. She never understood why, and she got all confused. Billy wouldn't admit his feelings though, he was too afraid.
Sarah Camille was a busy person, always wanting to have something to do. She had a short attention span, very short. She dated a lot of guys, and she got bored with the same old romantic stuff over and over, so she'd break up with 'em. She was looking for someone who would be different, and she saw that Billy Black, her best friend, was one of those people. But, she didn't think Billy liked her for anything but a best friend. She didn't let him in on her feelings, but she got annoyed with him when he got mad at her for dating guys. She was looking for her guy, what was wrong with that? She found herself wishing every guy was Billy, and then she finally just gave up on finding the right man. She knew who she really wanted, Billy Black.
Billy finally manned up and asked her out. They fell deeply in love, and they couldn't get enough of each other. Their parents weren't ecstatic about this bond, but they dealt with it. Sarah's parents tried to break her love for him, but there was no way they could. Billy and Sarah loved each other far too much. Then one day, Billy proposed to Sarah. She said yes right away, and they got married two months later. That's when Billy told her he wanted children...family. Sarah's parents were still pissed off, and refused to talk to Sarah or the Blacks.
A few years later, Sarah Black got pregnant again. The twins were a few years older. They didn't want the complications, and debated an abortion, but in the end Sarah said no. She loved the child in her stomach too much already, that she couldn't bear to kill it. At the time of debating, they didn't know whether the newest member of the family was a boy or a girl. They hoped for a little boy, because Billy had made Sarah promise to get her tubes tied after this. The same complications came up, but this time they were worse. Sarah had to live in the hospital pretty much, so now Billy was trying to get enough money to pay for Sarah and the twins' daycare fees. It was hard and tiring, but he never gave up.
Jacob Ephraim Black was born after nine months of pure torture for the family pretty much. They all loved the new healthy baby boy. He was a beautiful boy, and Billy was excited to have someone carry down the family name. Neither Rachel or Rebecca could carry the family name down. Sarah was exhausted, and both mother and son had to stay in the hospital for 3 weeks to bring Sarah's health back up. They were happy again as soon as they were allowed to come home. Rachel and Rebecca loved to hold their little brother, and Sarah and Billy were content with their family. They decided that after Jacob was 1 years old, she would get her tubes tied.
Jacob was a normal little boy, but he wasn't very big compared to everybody else. He was probably one of the smaller kids in fact. He had a lot of friends, but his favorites were Quil, Embry, and Tamaya Uley. He got into trouble a lot, but half the time it was because he'd been set-up. He was easy to bully, but no one really bullied him. They just picked on him a little bit here and there. It didn't bother him, and he didn't get mad easily. Jake was willing to share, and he was willing to play with just about anybody. He didn't leave out any other kids, and he liked to talk to random strangers.
Jacob loved kindergarten, and he loved his teachers, friends, playing, coloring, and somewhat learning. He didn't like to pay attention in class much though. All he thought about was terrorizing the girls, and hanging out with Quil, Embry, and Tamaya. Tamaya was about the only girl he didn't terrorize. There were maybe one or two that he didn't pick on, but he thinks it's because they scared him or something. He doesn't remember kindergarten very well anymore. He remembers meeting Bella and befriending her before she moved away from Forks with her mother. That made him sad.
At the age of six, Jacob got really sick. They didn't know what was wrong with him, and his parents were terrified for his health. It was the middle of the night in the winter when they needed to take him to the hospital. The words were icy, but neither parent was all that worried about it. They left Rachel and Rebecca at home, because they had school in the morning. Jacob was strapped in a booster, because he was still six and needed one. Billy was having a hard time seeing the road, and Sarah was pushing him to go faster to get Jake to the hospital.
Billy lost control of the truck, and went off the side of the road. It rolled, and Billy was pinned under the truck. He'd fallen out during the roll, and his legs were pinned. Sarah was dead instantly smashing her head against the console. Jacob was absolutely fine except for a few scratches, and for the fact that he was sick. The medical emergency people got there pretty quick, but Billy was forever paralyzed by the time they got him out from under the car. They took all three Blacks to the hospital at a fast pace. They knew Sarah was dead, but they didn't Billy or Jacob for that matter.
After Billy was concious and not freaking out about his legs, and they decided Jacob was not harmed, they figured out that Jacob's body had just been reacting really poorly to a flu. So Billy and Sarah could have kept Jake in bed, and he would have been fine after a few days. They also broke the news to Billy that Sarah Black had lost her life probably instantly when the crash occured. Billy was lost in life immediately. He didn't know what he would do. He saw so much of Sarah in his little girls, and Jacob. It made it hard to look his children in the eyes, and he felt like he should be dead instead of Sarah.
At thirteen years of age, Jacob didn't even remember the night of losing his mother, and he was dating Tamaya Uley. It was innocent dating; like holding hands, and stuff like that. He really liked her a lot. They were attached at the hip all the time. They had their first kiss on the day before Tamaya left for Hawaii. Jake never did understand why she left, but he wasn't too happy about it. He missed her, but he still had Quil and Embry. They were content, and Jake dated a lot of other girls, but no one really held his interest. He missed Tamaya, but he moved on. He decided she was never going to contact him, so he just got over it.
Bella came back when he was like 16 years old. He was ecstatic, and he was building a rabbit at the time she came back. He bothered Billy about going to see Bella all the time, before they finally went and visited. She was beautiful, and he hadn't been expecting that. He hadn't really realized how much he had missed Isabella Swan. When she came to the beach asking about the Quileute legends, he gave in and told them to her. That's how she found about vampires, but he didn't believe them at the time. He just wanted to be her friend. When Edward left, Bella was a mess when she came to La Push. He saw how much pain she was in, and how she was trying to hold herself together. He build her a motorcycle, and he became her best friend. They hung out almost every single day. Before everything changed...
Jacob Black went wolf the day he got home from a movie with Bella and her friend Mike Newton. He was jealous of Mike, but he'd been happy to hang out with Bella. Sam ordered that he could not hang out with Bella or tell her about being a wolf. It made him angry, but no one could deny the words of the alpha. He watched over her at night, and he hung out around her house, wanting to be there for her. When she came down to La Push, he tried to hold his cool, and not get mad, but it was hard. He saw the pain he was actually putting her through. It hurt to see.
That night he went to her room in the middle of the night, climbing the tree. He made her guess what he was, and they became friends again. Of course, Sam and Paul were furious, but Paul got more violent about it. Jacob had to fight Paul off so that he couldn't hurt Bella. After getting Bella back, Jacob didn't think being a wolf was so bad anymore. At first it had been horrible, but not so much anymore. They became attached to the hip again, but then he was so busy protecting Bella from Victoria. Things got complicated after she jumped off a cliff, and Edward came back.
Edward came back, and Bella just sort of forgot about him it felt like. She tried to talk to him, but he ignored her. Too angry to talk to her. He went back to concentrating on his duties. He told her that he missed her, but he couldn't be her friend when she was spending all her time with a bloodsucker. He despised Edward Cullen and his whole family. He made a vow to himself, that he would kill Edward if he ever hurt Bella in any sort of way. Edward wouldn't let her come down to La Push, and it pissed Jacob off. Bella finally made it down, and he tried to hide his pain.
He fought hard for her love, he really did. He did every single thing he could to get her to realize that she loved him. Jacob loved Bella so much, he didn't think there was another girl out there for him. He put her through so much pain, but he still doesn't feel bad about that. When he heard Bella was going to marry Edward on the fight with the Newborn Vampires, he felt lost. He knew he would never win her love, and he knew all hope was gone. He knew that the stupid bloodsucker would turn her, marry her, and he would be forgotten. It hurt real bad to be rejected so much. He fled from the pain of the news. He fled to Canada.
He stayed in his russet brown wolf form at all times. He tried to think like a wolf instead of a human. He relished not feeling any pain but the pain of hunger. He didn't forget Bella like he wanted to. Sam and the rest of the pack tried to get Jake to return, but he was trying to forget losing Bells to the filthy bloodsucker. He was mad, and he was trying to burn it off. He had no immediate plans to come back, ever. He didn't want to see his best friend and past lover become a vampire.
Jake, unfortunately, could not forget the pain, and decided to come back for her wedding. He had cut his hair with kitchen shears before he came, and he pushed himself to get there on time. He wanted to make Bells happy. He came, but he got a surprise. Bells was going to have a "real" honeymoon with Edward, and that totally made him angry. Edward would hurt her or something. Jake got really angry, and was forced to leave earlier than he had wanted to. He was mad at Edward, but all he could hope was that Edward brought her back alive.
Bella did come back alive, but with a "disease". Jacob immediately wanted to start war with the Cullens, but Sam would not allow it. So Jacob went on his own to the Cullen house to declare a one-on-one match with Edward Cullen. When he got there, he got a surprise. Bells was pregnant, with Edward. That made Jake furious, because it was killing her. He got furious with Edward, and furious that Bells wouldn't let them abort the baby. She tried to reassure him, but to no avail. He was pissed off about the whole thing, and practically yelled at her. Nothing changed her mind though.
Jake went back to La Push to Sam. They all saw what had happened in his head, and the pack freaked out. Seth and Jake were the only ones who didn't want to fight. Jake broke away from the pack, with Seth at his heels. He got mad that Seth had followed him, but he had vowed never to take away someone's will; which meant he couldn't make Seth go back to Sam. Later Leah joined, and then a whole bunch of werewolves joined. He hates owning the pack, and he begs people to go back to Sam. He doesn't like the No Pack werewolves; he thinks they should all be under Sam.