Post by Rachel Black on Jul 12, 2010 17:49:04 GMT -5
Character Basics
Name:
Rachel Black
Nickname:
Age:
born 1986, (20 years old during
Breaking Dawn
)
Appearance
Looks:
She is somewhat short but not necessarily petite with naturally tanned skin, however living in the state of Washington makes it difficult to acquire any sort of darker skin tone when the sun hardly comes out from behind the rain clouds. Her eyes are a warm brown and she has a smile that lights up the room. Since moving away from La Push for college, she has since chopped off her long hair and maintains a funky, layered chin-length bob.
Scars, tattoos, other marks:
Tattoo of different religious symbols wrapped around her right wrist
Portrayed by:
Lily Allen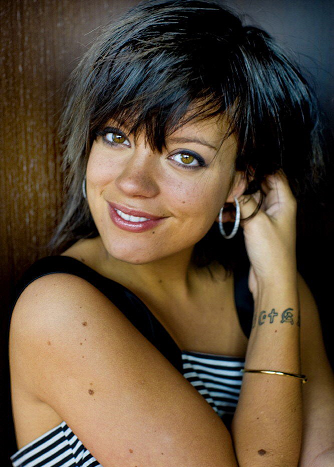 Personality and Stats
Basic Personality:
She is warm and affectionate, loves her family and Paul deeply, is culturally savvy, enjoys funky trends, and finding out legends are true is amazing to her.
Species:
Human
Abilities:
She can cook pretty well
Occupation:
College grad
Car:
1995 Dodge Spirit
History:
Birthplace:
La Push reservation, Washington
Family:
Billy Black - father
Sarah Black - mother (deceased; car accident)
Rebecca Black - twin sister
Rachel's husband - brother-in-law
Jacob Black - not-so-little brother
Friends:
Paul Ketwa - imprinter, Emily Young, Bayak Solomon, other members/relatives/imprintees of the Wolf pack with whom she grew up
History:
Rachel was born the twin sister of Rebecca to Billy and Sarah Black. Approximately 4 years later they were joined by a baby brother, Jacob. Life was pretty simple and picturesque for the Black family who were always told the legends of their tribe, being descendants of great chiefs; one such legend talking of her great-grandfather Ephraim Black who made a treaty with the "Cold Ones" to never come on their land or else the Quileutes would expose them for who they really were. She enjoyed the stories as a child, but as she got older they didn't entice her as much. And when her mother died in a bad car accident she had to grow up really fast. Rachel and Rebecca were the women of the house and it just became too uncomfortable for them to deal with.
Both sisters finished high school at 17 and both left La Push for something of their own. While Rebecca eventually moved to Hawaii and got married to a a Samoan surfer, Rachel received a scholarship to go away to college on a full ride to the University of Washington to study history. She loved living on campus and meeting new people of all differents colors and creeds. She definitely felt like a small fish in a big pond, taking very quickly to the life of a "city girl". But she never strayed from her studies and was a very intelligent student, graduating early after only three years. When she returned to La Push, it became awkward again and at times she's wanted to leave; move to Seattle to find work or maybe go to Hawaii to stay with Rebecca who she will always share an amazingly close bond with.
It wasn't but probably days after moving back home that Paul, who was over at her house, imprinted on her. She wasn't sure why she was suddenly so attracted to him, but seeing him took her breath away and her heart fluttered like crazy. She was filled in on all the colorful details of how the legends were in fact true and her brother was able to shift into a wolf as were many of the males her age or younger in the tribe, even Leah Clearwater. The Cold Ones turned out to be vampires which were real and although she was upset that their presence caused the wolf pack to be created, she was okay with the fact that the Cullens were different and only fed on animals and wished to not harm humans.
Despite all of this, Paul has moved quickly into her heart and she couldn't be happier. She had never believed in love at first sight before, but since shapeshifters and vampires were, who was she to question anything anymore? Since being imprinted on, she has threatened Jacob she will kill him if he ever hurts Paul, who spends all his time at the Black house watching their TV or eating their food. However, despite her love for Paul, she also loves her family a great deal and will not leave to live with Paul because she wants to stay at home where her brother is, at least for the time being, because she missed Jacob.
What the future holds Rachel is uncertain. She loves Paul and envisions them getting married someday, but she still thinks about moving away from La Push. She is also considering, if she stayed on the reservation if she could find work as a history teacher at the high school.