Post by Jane Volturi on Jul 13, 2010 17:31:50 GMT -5
Character Basics:

Name: Jane Volturi

Nickname: Dear One (only by Aro)

Age: 13 (810)

Appearance
Looks: Jane is described as tiny with lank, long blond hair and pale. She has a rather slim and androgynous figure. She has a face that is both angelic and fiercely childlike, and lovely when animated. She has wide eyes, full lips, and a childlike voice. Her eyes are red when she has recently fed, but they turn black if she grows thirsty. In the movie she has blond, longer hair and less full but close to it lips, her face also has more of a stronger jaw than round and childish as described, the same as the rest.
Scars, tattoos, other marks: Mark of teeth from Aro when she was turned
Portrayed by: Dakota Fanning: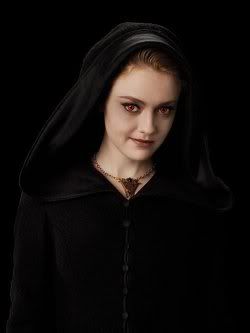 Personality and Stats
Basic Personality: Jane is very dark and sadistic. She is easily angered when her powers get thwarted, and has a very deep and strong hatred for Bella after their first meeting. She appears to worship Aro as she is very happy to be in his presence. She enjoys her powers and the respect and fear that comes from her having them, and never wastes an opportunity to use them. Despite her evil personality she seems to have a very loving relationship with her twin brother Alec.
Species: Vampire
Abilities: Illusion of Pain
Occupation: Guard of the Volturi
Car: none


History:
Birthplace: It doesn't say anywhere in the Twilight Saga what time period Alec and Jane lived in as humans, but considering that they still burned people at the stake then, it should have been around Middle Ages under the control of Holy Catholic Inquisition. (1200-1400 AD)
Family: Twin brother: Alec
Friends: none
History: The Volturi had their eyes on Jane and her brother Alec as potential vampires when they were still human, but were waiting until they were older to change them. When frightened humans started to burn the twins at the stake because of suspected witchcraft, Aro stepped in, slaughtering the whole village. Because of all she went through (several burns), Jane gained the power to voluntarily inflict a mental illusion of agonizing pain on others (burning illusion). Jane has since become one of the prize members of the Volturi Guard. It is unknown whether or not Jane's human name was 'Jane' as well, but the chances are high that it was. Her and Alec's surname remains unknown.